Certified Medical Interpreters for Life-Saving Communication
Imagine what it would be like to be in need of healthcare, but unable to effectively communicate with your physician. Realize not only the stress that would come with receiving life-saving medical care, but also the added frustration of knowing that you couldn't understand the important information that was being told to you… and your inability to communicate your questions and concerns in response.
This scenario plays out every day in many hospitals, nursing facilities, and doctors' offices across the United States. While some businesses can depend on a customer's spouse or child to translate throughout transactions, the complicated, specific and life-impacting medical terms used in the healthcare industry must be explained accurately by certified medical interpreters.
The Impact of Limited English Proficiency Patients
The Limited English Proficiency (LEP) population has been steadily increasing in the United States over the last few decades. The U.S. LEP population is approximately 25 million—an increase of 81% since 1980. Almost 95% of these individuals live in urban areas or the surrounding counties, so in order to address situations like the one described above, healthcare providers in these areas have historically had to hire professionally qualified interpreters who can fluently speak the language of their patients.
Hiring interpreters, whether to add onto the hospital staff or to be "on call," is an expensive venture. While the expense is well spent, as it improves patient care and satisfaction, the medical industry is under intense pressure to not only improve patient outcomes, but to also lower their operating costs.
As interpretive services costs have steadily increased, along with the rising number of LEP patients in many hospitals today, healthcare providers have sought a more affordable and effective solution, and one of the most effective healthcare trends that addresses the problem is Video Remote Interpreting (VRI).
Healthcare Trends on the Rise: Video Remote Interpreting (VRI)
VRI is a method by which healthcare providers are able to leverage the person-to-person connectivity of face-to-face interpreting, but with the speed of access and viability of cost that is available via video remote technology.
Effectively eliminating the need for advance scheduling and travel accommodations for bedside interpreters, hospitals are now able to access VRI services for their patients 24/7 by simply connecting to interpreters via computers, laptops, tablets or other smart devices.
Rather than hiring on-site interpreters—many of whom often require payment for a minimum number of hours, regardless of services rendered—healthcare providers are able to pay for the VRI minutes that they have actually used. This means that physicians are able to have shorter, more convenient patient conversations, and have them more often. It also means that doctors, especially those in emergency situations, have a much higher speed of access to interpreters. Doctors and patients are able to share information quickly and efficiently with qualified professionals. This reduces overall risk due to faulty interpretations or misunderstandings, empowering providers and patients with the ability to have quality medical conversations.
Making Use of VRI Services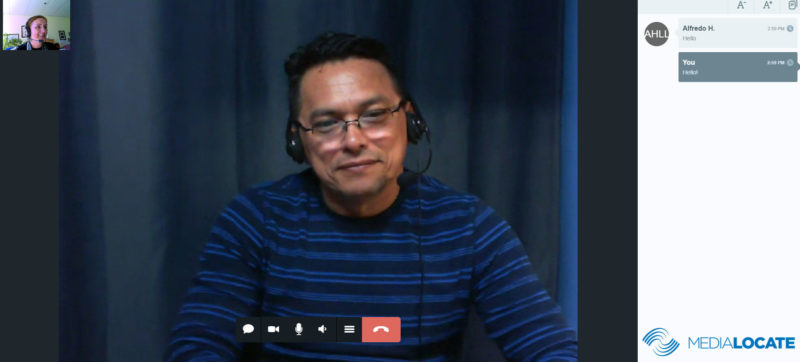 Live, web-based video conferences with certified, medically-trained VRI interpreters available 24/7 in "high-demand" languages and American Sign Language (ASL) is one of the most revolutionary and lifesaving healthcare trends. It expands the opportunity for healthcare providers and patients to communicate, regardless of language barriers or disabilities.
Our video remote interpreters can be reached via a simple user interface from any computer and most mobile devices equipped with high-speed internet, a camera, and a microphone. Anyone with a username and password is able to log into our ​VRI application and be connected with an interpreter.
​Not only can the user and the interpreter see and hear each other, but ​they can also write messages via a chat box, which comes in handy when complicated names or numbers need to be conveyed. Furthermore, the tool enhances communication between the involved parties by allowing them to read each other's body language, which is a huge advantage over phone interpreting!
In summary, the most obvious VRI advantages are as follows:
Cost Savings
Decreases interpreting costs by eliminating waiting time, travel, and minimum charges
Client only pays for minutes used
No expensive equipment needed
No licensing fees
Improved Efficiency
Easy to Use
On-demand access to interpreters
Access from any computer and most mobile devices
Innovative and HIPAA-compliant software
However, remember that even the  most attractive VRI platform or user interface cannot compensate for untrained or unqualified interpreters. Therefore, healthcare providers should always seek partners who are experienced language services providers and not just platform developers or crowd-sourcers.
 To learn more about our VRI and all of our interpreting services,  contact us at info@digilang.com.
 RELATED POSTS: